From neat, under-the-counter fridge freezers to large, double-doored American fridge freezers, Cunniffe Electric stocks a variety of fridge freezers from leading brands such as Bosch, Whirlpool, Hotpoint, Samsung, Smeg and Indesit. All fridge freezers from Cunniffe Electric come equipped with a warranty, so you can have peace of mind that your food will remain fresh and frozen for the foreseeable.
With nearly 40 freestanding fridge freezers to pick from in the Cunniffe Electric store, you can find the appliance that's best fitted for you. Freestanding fridge freezers come in a range of sizes, from tall, upright fridge freezers to more compact, cube-sized appliances.
Freestanding fridge freezers are excellent for slotting in existing spaces in your kitchen or utility area and come in a range of colours from white, grey and black to match your decor. This freestanding Hotpoint Fridge Freezer boasts frost-free technology, so defrosting your fridge freezer is a thing of the past.
Designed to fit around your current layout, integrated fridge freezers fit seamlessly into your space without attracting attention. Integrated fridge freezers offer plenty of internal room with a fridge capacity of over 200 litres, without appearing bulky and out of place in modern kitchens.
Enjoy a constant stream of cool water or ice directly from your fridge freezers with a plumbed-in appliance. Available to be fitted by Cunniffe Electric for Galway customers, plumbed fridge freezers offer a stylish and minimal design without compromising on practicality.
Ideally suited for big families or commercial businesses, American fridge freezers come with plenty of space inside to easily hold monthly food shops.
Shop the whole range of fridge freezers available from Cunniffe Electric on our dedicated website, or visit one of our two Galway locations, or our Ballinasloe location to shop in person.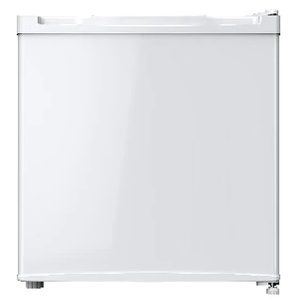 Capacity

31l

Energy Rating

E

Warranty

2 Year

Height

496