Offering ample storage space for your fresh produce and frozen goods, American-style fridge freezers are a popular choice for both homes and commercial properties. At Cunniffe Electric, we stock a range of American fridge freezers from leading brands such as Samsung, Hotpoint and Falcon.
American fridge freezers are available as free-standing or plumbed, so can work around your existing kitchen set-up. Plumbed American fridge freezers from Samsung and Hotpoint offer water and ice functionality, so you can enjoy chilled water directly from your fridge.
The big appeal of American fridge freezers is available space. With up to four doors, American fridge freezers come with dedicated fresh and frozen storage compartments, with certain models able to hold up to 600l of produce. American fridge freezers eliminate the issues of trying to find space in your freezer, or room on your fridge shelves for shopping.
American fridge freezers feature a sleek and modern finish, coming in a range of matte or gloss black, silver and grey shades. With no-frost technology to prevent unnecessary ice build-up, American fridge freezers from Cunniffe Electric take away the chore of defrosting the freezer.
Suitable for the modern kitchen, American fridge freezers are equipped with the latest in appliance technology. SpaceMax™ technology for certain Samsung models slims the walls in your fridge to create a larger internal capacity. Certain Hotpoint American fridge freezers come with a touch display, meaning you can control your appliances with just a touch of your fingertips.
Find an American fridge freezer at Cunniffe Electric that suits your kitchen and budget. Browse American fridge freezers on our website, or visit us at one of our two Galway locations. The Cunniffe Electric team is on-hand to show you our American fridge freezer appliances, and recommend products tailored to your needs.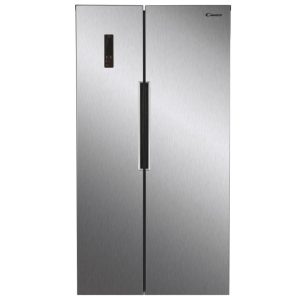 Capacity

291L / 151L

Energy Rating

F

Frost Free

Yes

Colour

Stainless Steel