Start your day off right: with coffee, of course! Get that barista finish every time you make a coffee at home, with coffee machines for sale online from Cunniffe Electric, Ireland. With a wide variety of coffee machines available to choose from, you can find your ideal home machine whether you're more of an espresso person or a latte person.
Find great deals on market-leading coffee machines, such as the DeLonghi range. The DeLonghi coffee machine range offers affordability without compromising on quality or reliability. Equip your kitchen with everything you need for a perfect coffee: from coffee grinders to dedicated milk frothing jugs. 
Get started with the DeLonghi Mini-Me Nescafe Dulce Gusto coffee maker, available on sale at only €59.99. With a light and compact design, the DeLonghi Mini-Me Nescafe Dulce Gusto coffee maker can easily be stored away when not in use.
Choose your favourite blend or pod and simply brew for a rich, smooth espresso with a perfect crema. Customise your coffee with at-home syrups and flavourings for an extra touch, with no additional cost to you!
Browse our wide range of coffee makers for sale online, with local pick-up in Galway and nationwide delivery across Ireland available. Why shell out euros at Stackbucks or Costa, when you can create the perfect coffee from the comfort of your own home.
Cunniffe Electric's range of coffee makers also includes machines from Krups, Russell Hobbs and Sage – notable brands that you will see used in commercial coffee spaces. Have peace of mind that you can continue to enjoy your coffee each day with a warranty included on all coffee makers from Cunniffe Electric as standard.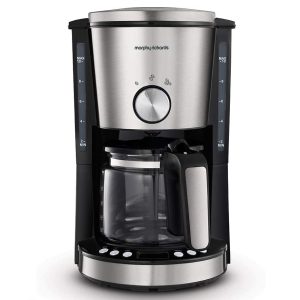 Capacity

1.25L

Type of Coffee

Filter

Colour

Silver

Warranty

2 Year