Optimise kitchen and worktop space with built-in microwaves from Cunniffe Electric. Our range of integrated microwaves includes appliances from leading brands such as Siemens, Hotpoint, Neff and AEG. With microwave grills, combi microwaves and compact ovens available, you can find the ideal appliance for your home or commercial space at a competitive price.
Create full meals in just half the time of a conventional oven with the AEG built-in combination microwave oven. Combining hot air fan cooking with the speed of a microwave, cook everything from succulent roast chicken to rich beef casserole in this small but nifty integrated appliance which makes meal time work for you.
Both stylish and built-in, the Siemens iQ500 microwave offers touch control and a built-in, automatic cooking program: cookControl7. With up to 7 automatic programs for perfect preparation of your dishes, cookControl7 works off your food's weight to provide the ideal cooking time and temperature.
Not only is a built-in microwave an excellent space-saver for kitchens and worktops, microwaves are also energy-efficient and designed to cut cooking time by up to half. Integrated microwave ovens are excellent for busy families, professionals or commercial spaces looking to cook quality meals in a fraction of the time.
Faster than a traditional grill, the Hotpoint 25L built-in microwave and grill combines microwave cooking with grill functionality, meaning you can do everything from simply reheating meals to grilling sausages, bacon and just about any other produce. Entirely self cleaning, this built-in microwave is resource-efficient and can reduce your kitchen's energy costs.
Browse the full catalogue of built-in microwave ovens on the Cunniffe Electric site, and purchase your product online or pop into one of our Galway or Ballinasloe locations. All built-in microwave ovens are offered with warranty as standard, and the Cunniffe Electric team is on-hand to advise you on your purchases.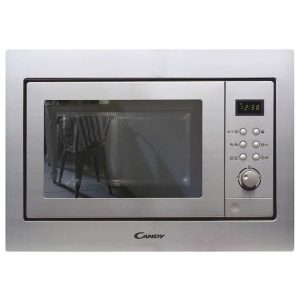 Capacity

20 L

Watts

800

Colour

Stainless Steel

Warranty

1 Year