TV & Audio Equipment from Cunniffe Electric
Kick it back in front of the TV, with over 50 competitively-priced televisions available to purchase from the Cunniffe Electric store. From modest, 24" TVs, to televisions that boast 85" of screen space, you can find television to suit your needs. Our 43" 4K Walker TV is a smart TV, coming fully loaded with all your entertainment apps, such as Netflix and Amazon Prime, so all your entertainment is in one convenient place.
Our range of audio equipment includes BlueTooth speakers (such as the popular Sony Micro HiFi system), wired and wireless headphones, Hi-Fi and radio tech (like the classic Steepletone Retro Radio), record and vinyl players, and MP3s and iPods to take your music on the move.
You can also find all the TV and audio equipment accessories you need directly from the Cunniffe Electric website, with Saorview boxes, satellite boxes, combi boxes and cables all available to purchase. You can even buy replacement remote controls, so you can always have a spare or backup when it goes missing down the back of the sofa.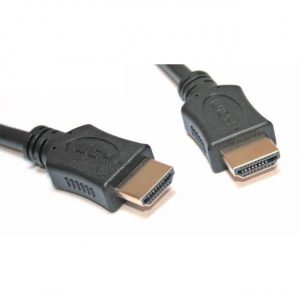 Length

1 Mtr

Colour

Black

Warranty

1 Year

Brand

OMEGA