Find a vast range of Nordmende products available to purchase directly from Cunniffe Electric. One of the leading European brands for high-end electronic home appliances, Nordmende products offer both affordability and practicality. From microwave ovens and cookers to TVs, you'll find a variety of these products available to buy from Cunniffe Electric.
Make the switch to a Smart Nordmende TV and enjoy endless hours of entertainment with just a few clicks of the TV remote. Available in screen sizes from 24" to 55",, this Smart TV comes equipped with Saorview and a satellite tuner, so you can watch all the channels that are important to you.
Switch your clothes horse out for the competitively priced Nordmende dryer, which makes light work of drying up to 7kg of wet laundry at a time. With over fifteen programmes and anti-crease drying, the Condenser Dryer is a hassle-free drying solution for dry, crinkle-free clothes all year round.
Shop the range of Nordmende cookers at Cunniffe Electric, with both standalone and integrated cooking appliances available. These cookers offer gas or electric cooking solutions and are sold in a range of different colours to suit your kitchen's colour scheme and theme.
Other Nordmende appliances on offer at Cunniffe Electric include fridges, freezers and ceramic hobs. Known for their reliability and durability, Nordmende appliances make the perfect addition to any busy home or workspace and can be delivered directly to your door from Cunniffe Electric.
Browse all the appliances on offer here at Cunniffe Electric and filter by item type, cost and warranty to find the ideal Nordmende appliance to suit your needs. Be ready to go with your new appliance right away by opting for at-home installation, available to all Galway shoppers.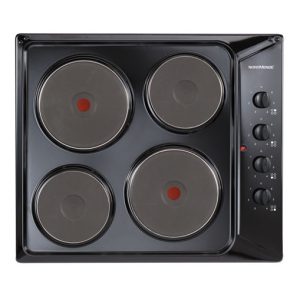 Number of Zones

4 Zone

Touch Control

No

Warranty

3 Years

Colour

Black